FitnessRebates.com Presents a Preworkout Supplement Deal from Bodybuilding.com
Cellucor C4 Extreme, 30 Servings – Only $29.99. Save $10 Off Retail Price
Flavors Available: Fruit Punch, Orange, Pink Lemonade, Strawberry Margarita, Icy Blue Razz, & Watermelon
Click Here to Purchase Cellucor C4 Extreme, 30 Servings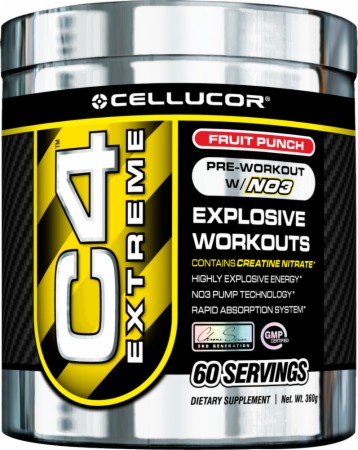 Price of $29.99 is Valid as of 4/12/13.
* Product prices and availability are accurate as of the date/time indicated and are subject to change *
Cellucor C4 Extreme
C4 Extreme by Cellucor is a concentrate pre-workout supplement. It follows the trend set by other companies, and has quickly gained a large following due to its hard hitting focus and 'tunnel vision'. It also is one of the first pre-workouts to incorporate creatine nitrate as the main creatine source, which proves to be a very effective ingredient in promoting muscle pumps and endurance.
Like many of its competitiors, it also contains 1, 3 Dimethylamylamine HCL, beta alanine and of course arginine.
Combine all of these positive benefits with what is said to be Cellucor's best value, and you have a solid pre-workout supplement.